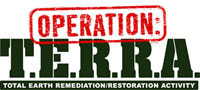 IThe most recent Simple Green Bioremediation project, "Operation T.E.R.R.A." tackles contaminated soil in Huntington Beach, CA.
The City of Huntington Beach has proclaimed Friday, September 22nd to be "Operation T.E.R.R.A. Day". T.E.R.R.A. stands for Total Earth Remediation and Restoration Activity, and the operation is a rare cooperative effort by community, government and the corporate world. The culmination of long-term efforts of Congressman Dana Rohrabacher (Rep. CA), Bruce FaBrizio, President & CEO of Simple Green, and the Department of Housing and Urban Development's Economic Development Initiative (EDI), this clean-up operation will result in a pocket of contaminated soil being restored to agricultural-grade soil. Congressman Rohrabacher was instrumental in having a $323,750 line item included in the Community Development Block Grants portion of the EDI to fund a demonstration project of Simple Green's soil remediation technology in his district.
The City of Huntington Beach directed Simple Green to the corner plot at Ellis and Goldenwest streets, which is to become part of the City's Huntington Central Park Project. The land contains an old oil-sump: a pit area where, for a variety of reasons, oil and sludge from a nearby drilling well were dumped. Simple Green is cleaning up approximately 3,000 cubic yards of contaminated soil via its bioremediation technology. The operation is being demonstrated to show this technology to petroleum companies, environmental engineering companies, military base-closure personnel, and State and local government agencies in an effort to show a more environmentally responsible soil cleaning method than most that exist in the remediation industry today.
This technology combines the introduction of nutrients and non-toxic Simple Green into the soil using a specialized piece of equipment called the Microenfractionator®, which mixes and homogenizes the soil in 6ft. high windrows. Over a projected 45-day period, the indigenous bacteria in the soil will be encouraged to grow to levels whereby they can consume the hydrocarbon contaminants. Once the hydrocarbon levels are brought down to required levels, the soil will be put back into the hole from which it was taken, and bacteria levels will naturally die back to normal levels.
The project is slated to run until approximately October 30th, 2000. The Simple Green/H&H remediation technology, with some variations in the additives used, also cleans soils contaminated with
» Chlorinated Insecticides
» Creosote
» Diesel Fuel
» Pentachlorophenol (PCP)
» Carbon Tetrachloride
» BTEX and more

Over the past 10 years, Simple Green and H&H EcoSystems have completed successful commercially funded projects in North American sites including California, Oregon, Washington, British Columbia, Canada, and Alberta, Canada.